Simply put Flip Talk is a no BS podcast with the specific goal of giving real, actionable information. My name is Don Costa and I am your host. I can promise you there will be no fluff, no bull, and no so called "experts". Just real knowledge, tips and tricks from the guys who actually flip houses every day! You'll hear from myself and my guests on how to avoid many of the mistakes that take place when you are first starting out and how to make flipping a successful business. If you've ever thought about flipping houses and investing in real estate then you're in the right place.
If you have ever thought about investing in real estate or you have wanted to grow your current operation then you will find a lot of actionable info in these podcasts.
My team and I are putting together some great things that will be released to our Flip Talk family as they are completed. Make sure you take the opportunity to join our mailing list and be the first to know when new info is available.
I truly love what I do. Real Estate investing has change my life for the better. It has giving me time and freedom to enjoy my children. It has giving my the chance to live life on my terms and I honestly can't imagine doing anything else.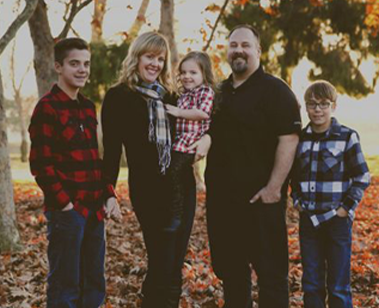 I am a husband and a father, I am a real estate investor and for better or worse I am an entrepreneur. In 2012 I was broke and I don't mean broke in the "I don't have enough to do what I want" kind of way. I mean broke like I had to choose between groceries for the week or the electric bill. I would literally grocery shop with my calculator in hand so that I wouldn't embarrass myself at checkout. More than once I pulled up to the gas station and bought one gallon of gas with quarters so that I could get my kids to the sitter. That year I mentally hit my lowest point, feeling defeated, scared, and in a deeper hole than most of you that are just starting out. I looked in the mirror and had that honest conversation with myself. "What is it I really want to be doing?" I knew I wanted to get back into real estate, but this time being more focused and running it like a proper business. I made the decision to build a true real estate investment company.
So, how did I climb out of the hole and back into the light? I posted ads on Craigslist looking for joint venture partners and for agents that wanted to work with investors. Next, I started calling agents to let them know that I was a player looking for properties. I interviewed contractors, vendors, and spent some time at Home Depot learning product costs. What was the result? I met an investor through the Craigslist post and found an agent that had a property I could flip. I made connections with a few of the vendors that I still work with to this day. Lastly I gained team members who believed in me and helped in growing the business. All of this happened less than 30 days from the moment I made the choice to change my mindset and in a handful of months I had the first check. It was gone before I got it, of course, but regardless I was in business!
As I look back one thing stands out – "as if". From day one I acted "as if" I had money in the bank and I was already crushing it. I acted "as if" I had been doing it for years with all the confidence that came with it. From day one I acted "as if" I was building one of the largest and most reputable house flipping companies in my market. That mindset gave me the strength to overcome obstacles and the confidence to build the necessary relationships to succeed.
I won't even try to pretend it was easy, it was some of the hardest work I've done. But now I have the checks to prove it was worth it! Four and a half years after that day looking in the mirror I sit here simply amazed at what was accomplished. This company has become such a strong force in our market.
I had the opportunity to launch this podcast and give back which has allowed me to interact with many incredible investors around the country.
I am an entrepreneur to the core and I love making deals. My why's run deep and in a lot of ways they are complex. The foundation of who I am is built by my faith in God. It motivates me every day to be a better person.
The beauty of life through the eyes of my children and the life that I want them to have is what drives me each and every moment of the day. Bottle all of it together and you have the perfect storm for massive action.
I truly love what I do because real estate investing has given me the time and freedom to enjoy my children. It has given me the chance to live life on my terms and I honestly can't imagine doing anything else. Real estate investing has truly changed my life for the better.